You May Be Warned to Say So Long to Soda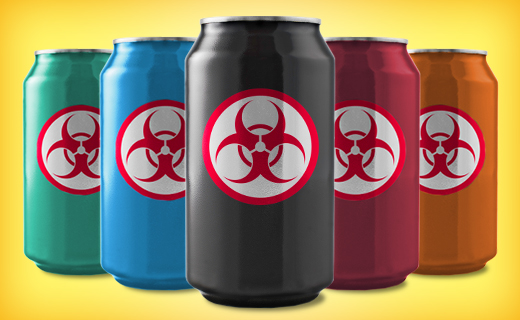 Dentists have always advised patients to avoid sodas and similar sugary or acidic beverages because they can contribute to tooth decay. Yet many of us just can't give up our favorite fizzy drinks. Unfortunately, soda is one of the worst things for your teeth because it's highly acidic nature can wear away at tooth enamel and lead to serious decay. To make matters worse, the large amount of sugar in most sodas gets converted to acid in the mouth and increases the rate of decay. And even though they don't contain those harmful sugars, diet sodas still have those eroding acids that can do the same damage. There are preventative measures like dental sealants that your dentist can use to seal crevices in teeth where decay usually starts, but it may just be time to take a hard look at soft drinks and finally can the soda can.
Interestingly, HealthCanal.com recently published an article about a University of Adelaide study that suggested how soft drinks might need to include warning labels about the potential dangers of these drinks to teeth. The researchers stated that people need to understand how soft drinks can contribute to a wide range of dangerous dental effects and must be made aware of these risks before consuming them or giving them to children. They even proposed the solution of placing explicit warning labels on soft drink cans. This would likely come as welcome news to dentists, but may be more difficult for consumers to swallow.
"Tooth decay carries with it significant physical, social, and health implications, and we believe the risk of tooth decay should be included in any warnings relating to sweet drinks," said one of the researchers from the study.
While the inclusion of warning labels is just a future possibility, you can be proactive about your own dental health today and start cutting back or cutting out these acid-packed drinks. Parents can also replace their child's sodas with fluoridated water, milk, and other drinks that can improve the child's dental health. You can also find a dentist in Philadelphia to apply dental sealants for you and your children.
We all want to feel good about the health and appearance of our teeth, so it's important to find an affordable dentist who will do everything to help preserve our dental health. Fortunately, one of the easiest ways to keep decay at bay is by kicking the soda can to the curb.
To find an affordable dentist and learn more about dental sealants how they can help avoid tooth decay, call today at or make an appointment.
---
Gentle Dental of Pennsylvania offers affordable family dentistry and gentle, compassionate dental care in Philadelphia. With 7 affiliated practices in the Philadelphia area, our offices are conveniently located with extended hours to meet your needs. At Gentle Dental of Pennsylvania, we provide most dental services, from basic preventative care and general dentistry to specialized procedures and complete dental reconstruction. We accept most dental insurance plans and offer affordable financial solutions for any budget. Patient satisfaction is our top priority and we strive to provide the exceptional, affordable dental care and personal touch that lead to lasting relationships. A smiling patient is our greatest reward and we look forward to keeping those smiles healthy, beautiful, and bright. Discover an affordable dentist who truly cares at Gentle Dental of Pennsylvania.