Why Your Best Attack Against Plaque is Flossing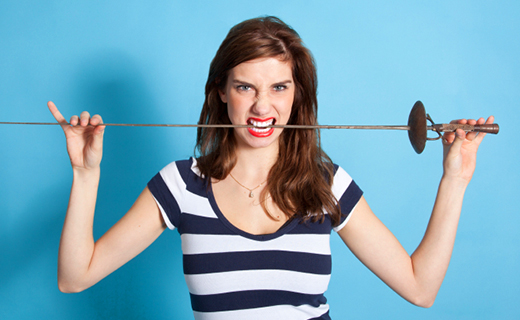 Your dentist has always told you to floss, but do you know the reason why? Flossing is actually your most important weapon against the plaque build-up that can cause tooth decay and gum disease. While brushing is certainly important in dental care, the brush only cleans the surface of the teeth while dental floss gets deep between them to remove the particles that lead to plaque. Clearly, that flimsy little string can deliver major dental care benefits, but you must be flossing correctly to harness its full protective powers. Follow these flossing tips from the best dentists in Philadelphia to protect your teeth from the problems of plaque.
While you may think that flossing takes too much time or say that you're too tired to floss after a busy day, the truth is that flossing takes just a few minutes. You'll be amazed at how fast and easy flossing can be and how simple it is to incorporate flossing into your daily dental care routine, just as your dentist has recommended.
Most dentists in Philadelphia recommend flossing at least once each day, and preferably twice, to remove the plaque that builds up during the day. It's this plaque that leads to tooth decay and the gum disease called gingivitis, so taking it away can result in fewer and more pleasant trips to the dentist.
There are the two types of dental floss and each has its unique advantages. Nylon floss is available in a variety of flavors and in both waxed and unwaxed versions. Waxed floss works better between teeth with fillings or crowns, but its nylon strands may shred and separate when used on teeth that are very close together. PTFE floss slides most easily between teeth and will not shred, but these benefits make it more expensive. Both are outstanding at removing particles and plaque between teeth, so your choice should depend on your specific needs. As long as you're including flossing in your dental care every day, either will get the job done well.
Just as a dental hygienist does, you should start with approximately 18 inches of dental floss. This may seem like a lot, but the extra length allows you to wrap the floss around your fingers and create the tautness needed to reach around each tooth. It will also ensure you have clean floss for every tooth. Slide the floss in a gentle back-and-forth motion between every tooth to remove the plaque within crevices and beneath the gumline. Then remove the floss with the same gentle motion.
As alternatives to floss, dental flossers are tools that hold a short strand of floss. Their small handles allow you to easily slide the floss into tight spots between teeth. Another option is to use water picks, which direct a stream of water between teeth to loosen food particles. Water picks aren't as effective at fighting plaque as flossing, but are useful for removing food particles in braces.
Flossing takes just a little time but makes a big difference in your dental care. By starting to floss every day, you can fight plaque for a lifetime.
To learn more flossing tips from an affordable dentist in Philadelphia, call Gentle Dental of Pennsylvania today at or make an appointment.
---
Gentle Dental of Pennsylvania offers affordable family dentistry and gentle, compassionate dental care in Philadelphia. With 7 affiliated practices in the Philadelphia area, our offices are conveniently located with extended hours to meet your needs. At Gentle Dental of Pennsylvania, we provide most dental services, from basic preventative care and general dentistry to specialized procedures and complete dental reconstruction. We accept most dental insurance plans and offer affordable financial solutions for any budget. Patient satisfaction is our top priority and we strive to provide the exceptional, affordable dental care and personal touch that lead to lasting relationships. A smiling patient is our greatest reward and we look forward to keeping those smiles healthy, beautiful, and bright. Discover an affordable dentist who truly cares at Gentle Dental of Pennsylvania.