Why You Must Baby Your Teeth During Pregnancy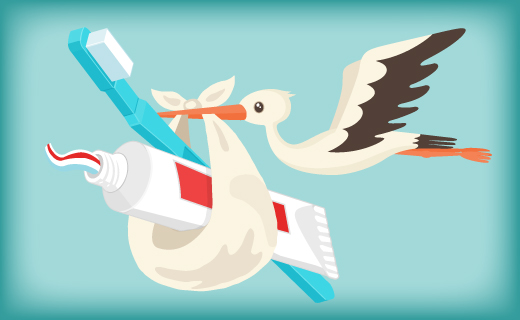 You know it's important to take care of your body when you're pregnant, but it's just as vital to take care of your teeth. Pregnancy and dental care go hand-in-hand, so you must take dental health into your own hands both during and after your pregnancy. Maintaining good dental care and eating well when you're pregnant can help keep you and your baby healthy. The National Maternal and Child Oral Health Resource Center (OHRC) offered some maternal advice on pregnancy and dental care.
There's no reason to neglect your dental care during your pregnancy. In fact, changes in your body can make you more susceptible to dental problems. According to the American Dental Association (ADA), gingivitis is a common dental problem experienced during pregnancy. Gingivitis of the gums makes them puffy and painful and it must be treated before it leads to more serious dental issues like gum disease. Colgate cites research that links gum disease in pregnant women to premature and underweight births.
Avoiding or postponing necessary dental treatment can put both you and your baby at risk for health problems.Be sure to tell your dentist about your pregnancy and your due date since this can have an impact on your treatment. Many medications are safe during pregnancy while some are not, so let your dentist know about your condition to make sure you receive the proper dental care.
If you have any dental health concerns or haven't been to the dentist in more than six months, make an appointment with a dentist in Philadelphia as soon as possible. According to Colgate, the ideal time to visit the dentist is between your fourth and sixth month of pregnancy. The first trimester of pregnancy demands extra medical precautions due to the baby's early development, so some dental treatments are not recommended at this time. In the final months of pregnancy, it may be uncomfortable to sit for long periods of time and any stress from dentist visits could increase the possibility of prenatal problems. But if you have a dental emergency, visit the dentist immediately and just let the office know about your pregnancy.
At home, you simply need to practice good dental care habits during your pregnancy. The ADA recommends brushing your teeth twice a day, along with flossing and rinsing with a fluoridated mouthwash daily. You should also chew gum or mints that have xylitol after meals to help reduce the bacteria can lead to tooth decay. After bouts of morning sickness, prevent acids from harming teeth by rinsing with a mixture of one teaspoon of baking soda diluted in one cup of water. These few simple steps can make a significant difference in the health of you and your baby.
When it comes to pregnancy and dental care, few realize the importance of healthy eating. The OHRC suggests including a variety of fruits, vegetables, lean proteins, whole grains, and dairy products in your daily diet. They each provide important nutrients that contribute to a healthy pregnancy. Drink fluoridated water or milk for the benefits they offer your body and teeth, and eat small amounts of nutrient-packed foods throughout the day to help reduce and ease morning sickness. At the same time, limit sugary foods and beverages to avoid the dental problems they cause.
The foods you choose can also reduce the risk of birth defects. Folic acid is essential to the baby's healthy development, so be sure to get 600 mg of folic acid a day through a folate-rich dietary supplement and a combination of foods either naturally high in folate or fortified with folic acid. Some of these foods include broccoli, asparagus, leafy green vegetables, along with legumes like beans and peas. Folic acid is also found in fruit such as oranges, papaya, cantaloupe, strawberries, and bananas. The nutrient is frequently added to grains, so look for fortified cereals, breads, pasta, and rice. With such a wide variety of folate-rich foods, you can contribute to your baby's good health while enjoying great taste.
After your pregnancy, good dental care should remain a priority for both you and your baby. It's important to maintain your own healthy eating and dental care habits while giving your baby's gums and emerging teeth the tender loving care they deserve. The OHRC advises feeding babies healthy foods when they're ready and having your pediatrician conduct an oral health examination within the first six months. This will help you detect dental issues early on and get immediate treatment to avoid future problems. And schedule your baby's first dentist appointment by their first birthday. You can find a caring, affordable dentist in Philadelphia who will give your child a head start on developing good dental care habits that will last a lifetime.
For the compassionate, affordable dental care you expect both during and after your pregnancy, call Gentle Dental of Pennsylvania today at or make an appointment.
---
Gentle Dental of Pennsylvania offers affordable family dentistry and gentle, compassionate dental care in Philadelphia. With 7 affiliated practices in the Philadelphia area, our offices are conveniently located with extended hours to meet your needs. At Gentle Dental of Pennsylvania, we provide most dental services, from basic preventative care and general dentistry to specialized procedures and complete dental reconstruction. We accept most dental insurance plans and offer affordable financial solutions for any budget. Patient satisfaction is our top priority and we strive to provide the exceptional, affordable dental care and personal touch that lead to lasting relationships. A smiling patient is our greatest reward and we look forward to keeping those smiles healthy, beautiful, and bright. Discover an affordable dentist who truly cares at Gentle Dental of Pennsylvania.