Why Mouthwash is a Must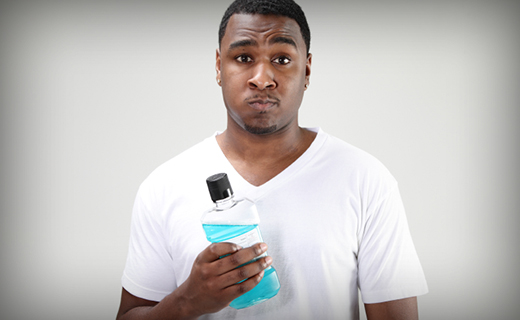 Brushing and flossing have always been the dynamic duo of good dental care, but there's another component that's proving to be much more important than ever imagined. This third plaque-fighting factor is mouthwash. A new study published in a journal by the Academy of General Dentistry (AGD) showed that mouthwash might be more effective at reducing both plaque and gingivitis than brushing alone. With the recent discovery about the power of mouthwash, there's now a trifecta of at-home treatment for good dental care.
The study followed the dental hygiene habits of 139 adults with mild to moderate plaque and gingivitis over six months. Half of the participants brushed and rinsed twice a day with a germ-killing mouthwash, while the other half brushed and used a placebo rinse. The group that used the germ-killing mouthwash reduced their plaque build-up by 26% percent and their gingivitis by 20%. In addition, 100% of the people who used the germ-killing mouthwash had a reduction in gingivitis, compared with only 30% of those who used the placebo rinse.
The results were explained by Christine Charles, director of scientific and professional affairs within the global consumer healthcare research and development division of Johnson & Johnson Consumer and Personal Products Worldwide, which sponsored the study.
"Mouth rinses can reach nearly 100 percent of the mouth's surfaces, while brushing focuses on the teeth, which make up only 25 percent of the mouth," according to Ms. Charles. "Even with regular brushing and flossing, bacteria often are left behind."
Another factor in the findings is that most people don't brush and floss as sufficiently or regularly as they should. Yet according to AGD spokeswoman and dentist, Janice Pliszczak, adding a germ-fighting mouthwash to a regular brushing and flossing routine can greatly improve your chance of eliminating the germs that cause oral health problems. This will save you the time and trouble of treating more serious dental problems, along with the high cost of treatment even with an affordable dentist.
While this certainly makes sense, the importance of mouthwash may come as a surprise if you always thought brushing and flossing were enough or that mouthwash only freshened your breath. Now, it appears that mouthwash is a must when it comes to practicing good dental care. When this trifecta of treatment is combined with regular visits to a dentist in Philadelphia, you can maintain your dental health for a lifetime.
To find an affordable dentist in Philadelphia, call Gentle Dental of Pennsylvania today at or make an appointment.
---
Gentle Dental of Pennsylvania offers affordable family dentistry and gentle, compassionate dental care in Philadelphia. With 7 affiliated practices in the Philadelphia area, our offices are conveniently located with extended hours to meet your needs. At Gentle Dental of Pennsylvania, we provide most dental services, from basic preventative care and general dentistry to specialized procedures and complete dental reconstruction. We accept most dental insurance plans and offer affordable financial solutions for any budget. Patient satisfaction is our top priority and we strive to provide the exceptional, affordable dental care and personal touch that lead to lasting relationships. A smiling patient is our greatest reward and we look forward to keeping those smiles healthy, beautiful, and bright. Discover an affordable dentist who truly cares at Gentle Dental of Pennsylvania.