Posted under:
General
Posted on: July 19, 2015
What a Coated Tongue is Telling You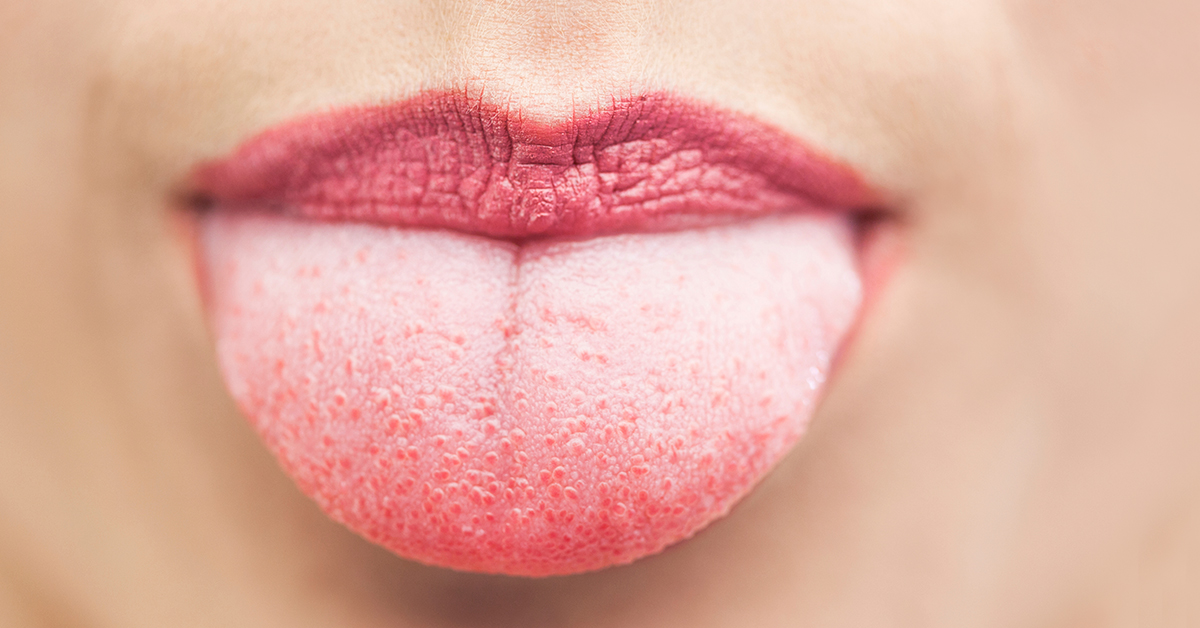 If you have an oddly colored or coated tongue, it can be upsetting at first, but can also be cured without second thought. Discover what's causing your tongue troubles and learn the right way to treat your tongue.
White Tongue
The Cause: The main sign of this condition is a white, coated tongue. It often occurs if you're on antibiotics, taking steroids for asthma, undergoing chemotherapy, or dealing with diabetes or a compromised immune system. A white tongue may also be a sign of leukoplakia from excessive alcohol or tobacco use.
The Cure: Brush your tongue twice a day for two weeks. Why you should you brush your tongue? The reason is to ensure that a coated tongue is not an oral hygiene problem. If you continue to have a white tongue, it may be an overgrowth of candida, which is also called yeast or oral thrush. It is easy to treat with an anti-fungal medication.
Striped Tongue
The Cause: This may be a sign of a chronic condition called oral lichen planus, which is when the immune system attacks the cells in the mouth. Middle-aged women most commonly experience it.
The Cure: If it is not painful, you probably won't need treatment. Yet have your doctor monitor your case because you may have a higher risk of developing oral cancer. If the condition is painful, you may be given medication.
Red Tongue
The Cause: A red tongue could be a sign of a sore throat, dry mouth, or vitamin deficiency. But if you have strep throat and a high fever, it may indicate scarlet fever.
The Cure: A sore throat can be soothed with throat lozenges and dry mouth can be treated with a product for saliva replacement or by drinking more water. A vitamin deficiency can be corrected with supplements and scarlet fever can be treated with antibiotics.
Bumpy Tongue
The Cause: The taste buds on the back of the tongue are naturally bumpier than the buds near the front, so expect small bumps in those areas. Eating hot, spicy foods can often irritate them and make them appear larger. Besides these bumps, you may notice others due to canker sores or herpes.
The Cure: Bumps due to canker sores or herpes will subside on their own, but you can expedite healing by soothing canker sores with an over-the-counter ointment, gargling with baking soda mixed in water, and avoiding acidic foods. Herpes requires a prescription antiviral medication.
Ridges On The Tongue
The Cause: These typically occur when your teeth press into your tongue while you sleep. Yet ridges may also indicate a fissured tongue, which is a long crack down the center of the tongue.
The Cure: Sleep-induced ridges go away on their own, but a fissured tongue is a lifelong genetic issue. If you have a fissured tongue, food may get trapped in the tongue's indentions and lead to dental decay. This is why you should brush your tongue when brushing your teeth to remove any trapped food and debris that could cause dental issues.
Black Tongue
The Cause: Even though this condition looks scary, it's harmless and typically occurs when cells on the tongue grow faster than they're shed. It's associated with improper oral hygiene, antibiotic use, a yeast infection, cancer therapy, and diabetes.
The Cure: This condition typically subsides on its own.
Geographic Tongue
The Cause: This condition gets its name from a mix of red and white spots on the tongue that resemble a geographic map. It's simply a sign that your taste buds have worn down in different areas. Interestingly, some medical research indicates a correlation with the autoimmune condition called celiac disease.
The Cure: No treatment is required for this common condition.
To learn about our family dentistry practice in Philadelphia, call Gentle Dental of Pennsylvania today at or make an appointment.
---
Gentle Dental of Pennsylvania offers affordable family dentistry and gentle, compassionate dental care in Philadelphia. With 7 affiliated practices in the Philadelphia area, our offices are conveniently located with extended hours to meet your needs. At Gentle Dental of Pennsylvania, we provide most dental services, from basic preventative care and general dentistry to specialized procedures and complete dental reconstruction. We accept most dental insurance plans and offer affordable financial solutions for any budget. Patient satisfaction is our top priority and we strive to provide the exceptional, affordable dental care and personal touch that lead to lasting relationships. A smiling patient is our greatest reward and we look forward to keeping those smiles healthy, beautiful, and bright. Discover an affordable dentist who truly cares at Gentle Dental of Pennsylvania.