Posted under:
General
Posted on: October 26, 2014
Understanding Common Dental Fear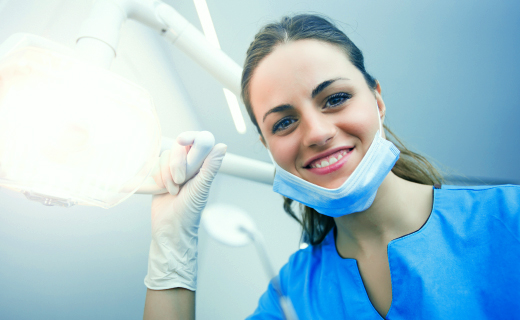 Dental anxiety is common in every part of the world where dental care is available. In the U.S., about 15 percent of all people deal with dental fear. In England, studies have shown that anxiety about a dental appointment has even more impact than a fear of snakes or spiders. If people with dental anxiety avoid getting the care they need, their neglect may contribute to serious medical problems like heart disease, stroke, and cancer. A great oral hygiene routine can help those with dental fear lessen the time they spend at the dentist's office, and make routine visits less intimidating.
Top 3 Causes of Dentist Phobia
Fear of the unknown is a major source of dental anxiety. Concerns about pain control, criticism, or treatment expense may cause people to avoid going to the dentist until they are forced to by excruciating pain. Talking about anxiety issues with the dentist or office staff, and touring the facility before an appointment can help to quell fears.
Sharp, scary dental instruments near a person's face are often enough to cause sheer panic. Many people worry that a slip of the drill could end in painful disaster. In fact, dental drills are the causative factor in many cases of dentist phobia. Alternative technologies like air abrasion are available in some clinics. Other common instruments like probes don't cause as much fear if the dentist introduces the patient to them and explains how they are used before the exam begins.
Noises commonly heard in a dentist's office, such as the whine of a dental drill or the sound of a suction tube, also trigger dental fear. It's virtually impossible for a dentist to complete his or her work without making some noise, so the best solution is to mask it. Wearing earplugs or listening to music through headphones helps many people tolerate treatment. Some offices even offer DVD or television entertainment in the treatment room to help distract patients.
Mind Over Matter
Conservative measures often help to reduce anxiety, but if dental phobia is causing poor oral health, consultation with a mental health professional for medication or behavioral therapy is usually effective.
To get the dental care you deserve from an affordable dentist in Philadelphia, call Gentle Dental of Pennsylvania today at or make an appointment.
---
Gentle Dental of Pennsylvania offers affordable family dentistry and gentle, compassionate dental care in Philadelphia. With 7 affiliated practices in the Philadelphia area, our offices are conveniently located with extended hours to meet your needs. At Gentle Dental of Pennsylvania, we provide most dental services, from basic preventative care and general dentistry to specialized procedures and complete dental reconstruction. We accept most dental insurance plans and offer affordable financial solutions for any budget. Patient satisfaction is our top priority and we strive to provide the exceptional, affordable dental care and personal touch that lead to lasting relationships. A smiling patient is our greatest reward and we look forward to keeping those smiles healthy, beautiful, and bright. Discover an affordable dentist who truly cares at Gentle Dental of Pennsylvania.