Posted under:
General
Posted on: May 17, 2013
The state of one's teeth and gums may impact overall health of the body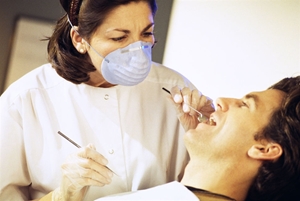 People should keep their dentists informed of existing medical conditions because many non-dental ailments have been linked to dental health. By including the family dentist in a person's medical team, the best treatments can be determined that best safeguard someone's well-being.
For instance, WebMD advises people who have had a heart attack to wait six months before any dentistry is performed on them. Dental practitioners should also be told if patients are taking anticoagulants, which are blood-thinning drugs, because excess bleeding could occur during some procedures. Patients should also check to see if oxygen and nitroglycerin is available at the dentist office in case of an emergency.
For those with high blood pressure, it's important to ask if the anesthetics used by the dentist contain epinephrine, because that substance could trigger angina, heighten blood pressure levels and affect other heart-related conditions.
According to the American Dental Association (ADA), bacteria that enters the mouth through tooth decay or gum disease can spread throughout the body. In addition to a well-known link to diabetes, dental problems may be an indication of nutritional deficiencies, blood disorders, impaired immunity and bacterial pneumonia.
Periodontitis, the most severe level of gum disease, also increases the risk of a pregnant woman delivering a baby prematurely or a full-term baby that has a low birth weight.
In general, the state of one's teeth and gums should be considered in tandem with the overall health of the body to ensure that symptoms beyond a simple toothache and the potential of underlying medical concerns aren't overlooked.
Gums and diabetes
To block dental disease from causing bad health in other parts of the body, ADA states that prevention is key. Good hygiene that includes a minimum of brushing teeth twice and flossing once daily, as well as regular check-ups with a local dentist, is important to maintain good dental health and identify problems in the early stages.
For people who are at the greatest risk of gum disease – at age 40 or older – regular dental exams are especially important for those with diabetes. When gingivitis, the most common form of gum disease, evolves into the more serious periodontitis, there is an increased risk of developing type 2 diabetes and exacerbating an existing case.
While this form of diabetes can be regulated with a healthy diet and medication, people with advanced gum disease have to monitor their sugar intake to make sure it doesn't create unhealthy glucose levels.
In addition, high sugar levels compromise one's immune system and the ability to fight infections, including oral disease. Conditions that include tooth sensitivity and decay, dry mouth and delayed healing of mouth sores may result.
Another health concern related to dental care is respiratory illness. When high levels of bacteria are allowed to fester in the mouth, they can travel down the throat and into the lungs and create conditions that make breathing difficult. In the worst case scenario, illnesses such as pneumonia may result.
Heart risks
The most hotly debated link between dental problems and overall health remains the one regarding cardiovascular conditions such as clogged arteries, which some researchers believe may worsen from chronic inflammation that begins in the mouth.
In 2012, the American Heart Association (AHA) announced that studies correlating swelled, diseased gums and clogged arteries are inconclusive, as is the link between dental health and heart disease.
However, the AHA also stated that periodontal and heart diseases have similar risk factors such as smoking, age and diabetes. The association continues to advise people to take care of their dental health as part of a heart-healthy regimen, pointing out that regular dental care reduces the risk of infections that may affect the heart.
To find an affordable dentist who will keep your smile at its best and provide exceptional dental care, call Gentle Dental of Pennsylvania today at or make an appointment.
---
Gentle Dental of Pennsylvania offers affordable family dentistry and gentle, compassionate dental care in Philadelphia. With 7 affiliated practices in the Philadelphia area, our offices are conveniently located with extended hours to meet your needs. At Gentle Dental of Pennsylvania, we provide most dental services, from basic preventative care and general dentistry to specialized procedures and complete dental reconstruction. We accept most dental insurance plans and offer affordable financial solutions for any budget. Patient satisfaction is our top priority and we strive to provide the exceptional, affordable dental care and personal touch that lead to lasting relationships. A smiling patient is our greatest reward and we look forward to keeping those smiles healthy, beautiful, and bright. Discover an affordable dentist who truly cares at Gentle Dental of Pennsylvania.