Posted under:
General
Posted on: March 1, 2015
Root Out the Truth About Root Canal Pain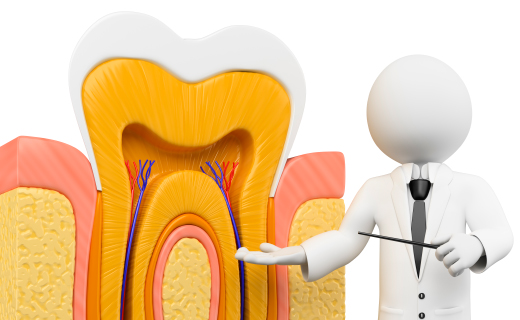 If you feel an aching, throbbing sensation around a tooth, this usually indicates a problem deep within the tooth and a root canal may be the remedy. Discover how this treatment can help soothe your suffering.
A Rundown on Root Canals
A root canal is a common procedure that is used to repair and restore a tooth that is damaged by decay or infection. The treatment involves removing the inflamed nerve and pulp in the tooth to prevent any infection from spreading to nearby areas. Despite its painful reputation, root canal pain is a major myth because it actually lessens pain instead of leading to it.
Signs That It's Time for Treatment
While a decayed or infected tooth can often cause discomfort, some people don't have any symptoms at all. But the most common signs include:
Extreme pain when chewing or putting pressure on the tooth
Severe sensitivity to hot or cold temperatures
Redness, swelling and tenderness in the surrounding gums
Discoloration of the tooth
A recurrent pimple on the gums
The Process of the Procedure
A dentist often performs the procedure, but may refer you to a root canal specialist called an endodontist and will recommend experts in endodontics in Philadelphia. You can expect the following for the root canal:
An x-ray is taken to determine the shape of the root canals and any signs of infection.
Local anesthesia may be used to numb the area.
A rubber dam is placed around the tooth to keep the area free from saliva.
An access hole is drilled into the tooth to allow the pulp, nerve and decayed tissue to be taken out with ease.
The tooth is thoroughly cleaned out to remove all decay and debris.
The tooth is sealed either immediately or given a temporary filling to allow for a week of healing time.
Finally, a filling is placed over tooth to cover the original access hole.
Recovery After a Root Canal
The procedure is painless, but any root canal pain after the procedure can be eased with over-the-counter pain medications. The tooth may feel sensitive for a few days after treatment, but most patients return to their normal activities the very next day. You should continue to brush and floss as always. If you are given a temporary filling, avoid putting pressure on that tooth until the final filling is placed.
Cost of Care
Root canals are often covered by insurance, but it depends on your coverage and the severity of the problem. Talk to your dentist about your options, including specialists in endodontics in Philadelphia who offer affordable dental care.
To learn about our family dentistry practice in Philadelphia, call Gentle Dental of Pennsylvania today at or make an appointment.
---
Gentle Dental of Pennsylvania offers affordable family dentistry and gentle, compassionate dental care in Philadelphia. With 7 affiliated practices in the Philadelphia area, our offices are conveniently located with extended hours to meet your needs. At Gentle Dental of Pennsylvania, we provide most dental services, from basic preventative care and general dentistry to specialized procedures and complete dental reconstruction. We accept most dental insurance plans and offer affordable financial solutions for any budget. Patient satisfaction is our top priority and we strive to provide the exceptional, affordable dental care and personal touch that lead to lasting relationships. A smiling patient is our greatest reward and we look forward to keeping those smiles healthy, beautiful, and bright. Discover an affordable dentist who truly cares at Gentle Dental of Pennsylvania.