How to Reduce Your Risk of Gum Disease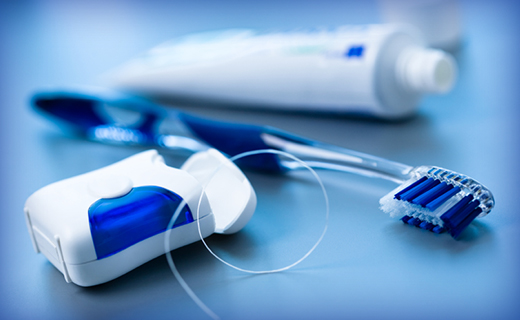 Gum disease is a condition you may not know much about, but you usually know when you have it. You know by your painful, swollen, receding gums, your sore, sensitive teeth, and persistent bad breath that all is not well with your gums. Yet you can also have gum disease with no signs or symptoms. The mildest form of gum disease is called gingivitis, but if left untreated, it can become more serious and cause major damage to the gums and even tooth loss. Fortunately, early prevention can save you from the pain of gum disease. And it's never too late to improve your dental care to protect your teeth and gums.
Gingivitis is very common and many adults in the U.S. currently have some form of gum disease. It's caused by plaque, the sticky film of bacteria that forms on the surfaces of teeth. If that plaque isn't removed by regular brushing and flossing, it begins to build up and its bacteria starts to irritate the surrounding teeth and gums.
Luckily, gingivitis can usually be reversed by daily brushing and flossing, along with regular teeth cleanings by a specialist in family dentistry. Early detection is your best protection, so see your dentist at the first sign of symptoms and make sure you get regular check-ups to stop dental problems at the start.
If gingivitis is left untreated, it can develop into a more serious form of gum disease called periodontitis. This occurs when gums have become so infected and inflamed that they cause damage to the connective tissue and bone supporting the teeth. Yet you can save yourself from the pain and price of further damage by getting immediate treatment from an affordable dentist and improving your dental care at home. If you wait too long to treat periodontitis, it can become much more serious, causing your teeth to loosen and your gums to recede. Without aggressive treatment at a dental clinic, some teeth may need to be removed.
But you don't have to face this fate. With healthy at-home dental care habits and regular visits to a specialist in family dentistry, you can protect yourself from gum disease and halt it before it does harm.
While good dental care is your best protection, there are certain risk factors that increase your chance of gum disease. These include pregnancy, hormonal changes, diabetes, other medical conditions, a weakened immune system, smoking and aging.
Now that you know the risks and rigors of gum disease, you know why you must be proactive about protection. You can reduce your risk by brushing, flossing and rinsing with an antiseptic mouthwash at least twice a day. This helps remove the plaque that causes problems. Just as important are regular check-ups and teeth cleanings at an affordable dental practice. This allows your dentist to detect and treat gum disease before it leads to larger problems.
While it can happen to anyone, it's reassuring to know that you can reverse gum disease, treat it and stop it from getting worse. All it takes is good dental care habits and a great dental clinic to keep your gums in their best condition.
To find an experienced, affordable dentist in Philadelphia for all of your dental care needs, call Gentle Dental of Pennsylvania today at or make an appointment.
---
Gentle Dental of Pennsylvania offers affordable family dentistry and gentle, compassionate dental care in Philadelphia. With 7 affiliated practices in the Philadelphia area, our offices are conveniently located with extended hours to meet your needs. At Gentle Dental of Pennsylvania, we provide most dental services, from basic preventative care and general dentistry to specialized procedures and complete dental reconstruction. We accept most dental insurance plans and offer affordable financial solutions for any budget. Patient satisfaction is our top priority and we strive to provide the exceptional, affordable dental care and personal touch that lead to lasting relationships. A smiling patient is our greatest reward and we look forward to keeping those smiles healthy, beautiful, and bright. Discover an affordable dentist who truly cares at Gentle Dental of Pennsylvania.