How to Keep Your Toothbrush Clean and Healthy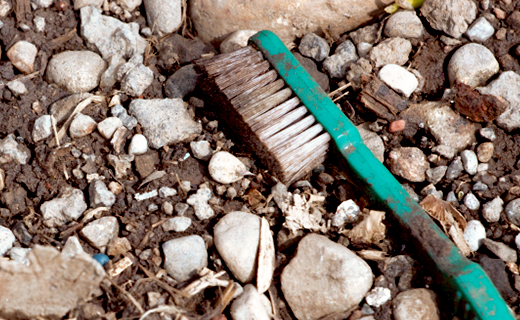 When most of us brush our teeth, we're more concerned with the cleanliness of our teeth than of our toothbrush. But your toothbrush is responsible for keeping your teeth clean and healthy and it can't fight germs if it's full of them. And be aware that a toothbrush not only holds on to germs, but it can also transmit them and heighten your risk of infection and dental care problems. These are just some of the reasons why you need to make sure that your toothbrush is safe and sanitary. With the following few steps, you can keep your toothbrush sparkling clean.
They say location is everything, and that's especially true for your toothbrush. Most people keep their toothbrush in the bathroom, but that may be a mistake because cool, dark and humid places like your bathroom can promote the growth of bacteria. This frequently happens to toothbrushes stored in dark, moist places like medicine cabinets and covered toothbrush holders.
Also, the relatively small size of most bathrooms means that the toothbrush is probably near the toilet. Research shows that when a toilet is flushed, water particles are projected up to eight feet away, which means that those particles could reach toothbrushes placed far across the room. As a result, the ideal location for your toothbrush is on your bedroom dresser or someplace similar where it can be far from those threats but close enough for convenience.
Now that you know where to safely store your toothbrush, you can focus on keeping it hygienic and healthy. First, when you choose a toothbrush, be sure to buy brushes with translucent bristles because they've been proven to hold onto 50% less bacteria than colored bristles. Next, rinse with an antimicrobial mouthwash before you brush. This helps reduce the number of germs that come in contact with your toothbrush and ultimately end up back in your mouth. Above all, experts in family dentistry recommend replacing your toothbrush every two or three months, and even sooner if the bristles break down or you've been sick. This ensures that you toothbrush remains in top plaque-fighting form.
Between the times you replace your toothbrush, you can remove any built-up bacteria by immersing your brush into one of these solutions for about 15 minutes. One option is to use a triclosan-containing solution. This simply involves dissolving one teaspoon of the solution into enough clean water to completely cover the head of the toothbrush. The other option is to use an antimicrobial mouthwash as the soaking solution instead. Be sure to use a fresh solution each time to prevent the spread of bacteria.
It may be surprising to see that good dental care extends to your toothbrush. But with these few simple steps, you can make sure that your toothbrush does more help than harm.
To find a family dentistry expert in Philadelphia for all of your dental care needs, call Gentle Dental of Pennsylvania today at or make an appointment. 
---
Gentle Dental of Pennsylvania offers affordable family dentistry and gentle, compassionate dental care in Philadelphia. With 7 affiliated practices in the Philadelphia area, our offices are conveniently located with extended hours to meet your needs. At Gentle Dental of Pennsylvania, we provide most dental services, from basic preventative care and general dentistry to specialized procedures and complete dental reconstruction. We accept most dental insurance plans and offer affordable financial solutions for any budget. Patient satisfaction is our top priority and we strive to provide the exceptional, affordable dental care and personal touch that lead to lasting relationships. A smiling patient is our greatest reward and we look forward to keeping those smiles healthy, beautiful, and bright. Discover an affordable dentist who truly cares at Gentle Dental of Pennsylvania.