Having Teeth Pulled Doesn't Have To Be Like Pulling Teeth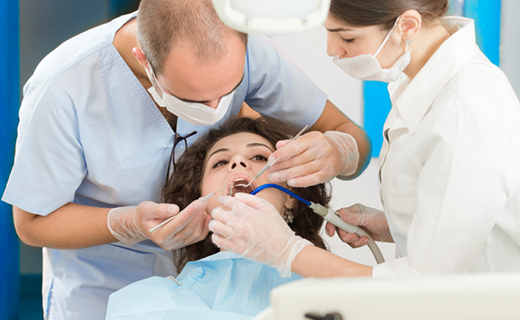 If you've never had a tooth extraction, the thought of having of a tooth pulled can be unsettling. But the truth is that the idea of the process is much more uncomfortable than the actual procedure. To put your mind at ease about how easy a tooth extraction can be, take a look at this guide on what to expect from extractions.
There are many different reasons why your dentist in Philadelphia may recommend a tooth extraction. Most often, it's due to a tooth that been badly decayed or damaged beyond repair. But it's also prescribed when the mouth's overcrowded, for reducing the risk of infection, or when gum disease has caused teeth to loosen.
If you need to have a tooth extraction, you must provide your full medical and dental history so your dentist is aware of any conditions that could cause complications. You may be advised to switch medications or put on antibiotics to reduce the risk of problems.
Once you're ready to have the tooth extraction, the procedure will be performed by either your general dentist or an oral surgeon, depending on the complexity of the case. For a simple extraction, your dentist will give you a local anesthetic to prevent any discomfort. If the extraction seems more difficult or multiple teeth will be removed, you'll be referred to an oral surgeon and get a stronger general anesthetic to prevent any pain and make you sleep through the procedure.
Once the tooth has been pulled, a blood clot will form in the socket to allow for proper healing. You must be very careful not to disturb this clot, especially in the first few hours after surgery. If the blood clot happens to break, you will experience a painful condition called dry socket, which will require your dentist to place a sedative dressing over the socket to form a new clot.
Right after you've had the tooth extraction, it's important to follow your dentist's dental care directions. While the initial recovery takes up to two weeks, you can ease your discomfort and reduce your risk of infection by following these simple steps:
Take pain medication as prescribed.
Reduce any swelling by applying ice packs to the area immediately after the tooth extraction.
Relax for a full day after the extraction and then limit activity for the following few days.
Do not rinse your mouth for 24 hours after the procedure to allow the blot clot to fully form. After 24 hours, rinse with lightly salted warm water to cleanse the area.
Continue your normal dental care routine of brushing and flossing your teeth, but stay away from the tooth extraction area to avoid infection and complications.
Eat only soft foods, such as soup and yogurt, and avoid drinking from a straw for a full day after extraction. Slowly add firmer foods to your diet as your recovery progresses.
Do not smoke since it can hinder your healing and health.
Be assured that it's normal to have some slight pain, swelling, and bleeding in the first 24 hours after extraction. But if any of these conditions are still severe more than four hours after the surgery, call your affordable dentist immediately. You should also alert your dentist if you experience signs of infection such as fever, chills, nausea, vomiting, chest pain, shortness of breath or other extreme discomfort. But these complications are very rare and they're easy to treat with a rapid response.
To get the dental care you deserve from an affordable dentist in Philadelphia, call Gentle Dental of Pennsylvania today at or make an appointment.
---
Gentle Dental of Pennsylvania offers affordable family dentistry and gentle, compassionate dental care in Philadelphia. With 7 affiliated practices in the Philadelphia area, our offices are conveniently located with extended hours to meet your needs. At Gentle Dental of Pennsylvania, we provide most dental services, from basic preventative care and general dentistry to specialized procedures and complete dental reconstruction. We accept most dental insurance plans and offer affordable financial solutions for any budget. Patient satisfaction is our top priority and we strive to provide the exceptional, affordable dental care and personal touch that lead to lasting relationships. A smiling patient is our greatest reward and we look forward to keeping those smiles healthy, beautiful, and bright. Discover an affordable dentist who truly cares at Gentle Dental of Pennsylvania.