Give Your Baby an Early Start on Good Dental Care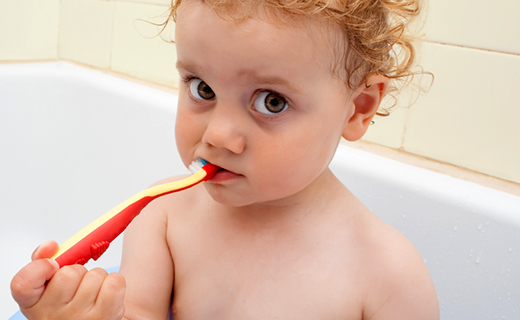 Your baby's teeth have special needs that demand more than the magic touch of the tooth fairy. As the baby's teeth appear, your family dentist must check, clean, and monitor them for tooth decay on a regular basis. Taking care of these tiny teeth can actually affect your child's ability to speak and chew, which is why it's important to start good dental care habits from a very young age. Fortunately, treating your baby to the very best dental care doesn't have to be complicated or costly. You can find an affordable dentist who will baby your child's teeth in Philadelphia.
While some may think that baby teeth don't require much care since they fall out at a young age, the baby's primary teeth actually prepare the child's gums for their adult teeth. This is why it's essential to take your child to the dentist and maintain good dental care from a very young age. The efforts you make in infancy will affect your child's dental health for their rest of their life.
But don't wait until a tooth appears to start practicing dental hygiene for your baby. Infants need to have their gums gently cleaned with a water-dampened cloth or soft infant toothbrush each day. Yet there's no need for toothpaste until their teeth come in.
One of the greatest concerns with infant dental care is avoiding the tooth decay that can develop while the child is drinking from a bottle and nursing. This is especially problematic when the bottle is given during naps and nightly sleep since the milk, formula, or juices can coat their teeth and erode their tooth enamel. To help alleviate the problem, the American Academy of Pediatric Dentistry recommends that nursing children only have water in their bottles when they're napping or sleeping at night.
To keep your baby's new teeth as healthy as possible, take your baby to the dentist when their first tooth appears. This can happen as early as the first few months or as late as the child's first birthday.
As soon as your baby has teeth to brush, start cleaning their teeth every day before bedtime. Simply place a small amount of toothpaste on a baby toothbrush and gently clean each tooth. Be sure to wash away the toothpaste with cool water since babies are unable to do it themselves.
Most young children learn to brush their own teeth between the ages of two and five. Show them how to place a pea-sized amount of toothpaste on the brush and carefully clean around every tooth. Teach them to rinse with a cup of water and then spit out the toothpaste without swallowing any. Praise their efforts and watch them develop good dental care habits that will last a lifetime.
To find the affordable dental care your family deserves, call Gentle Dental of Pennsylvania today at or make an appointment.
---
Gentle Dental of Pennsylvania offers affordable family dentistry and gentle, compassionate dental care in Philadelphia. With 7 affiliated practices in the Philadelphia area, our offices are conveniently located with extended hours to meet your needs. At Gentle Dental of Pennsylvania, we provide most dental services, from basic preventative care and general dentistry to specialized procedures and complete dental reconstruction. We accept most dental insurance plans and offer affordable financial solutions for any budget. Patient satisfaction is our top priority and we strive to provide the exceptional, affordable dental care and personal touch that lead to lasting relationships. A smiling patient is our greatest reward and we look forward to keeping those smiles healthy, beautiful, and bright. Discover an affordable dentist who truly cares at Gentle Dental of Pennsylvania.