Feed The Need To Care For Your Teeth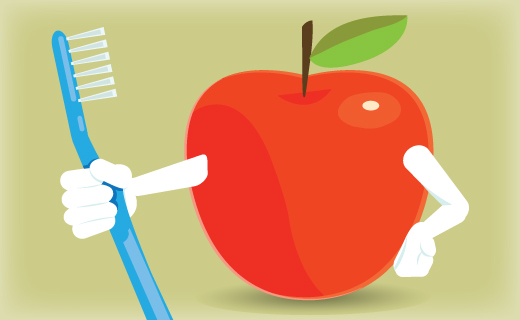 When it comes to dental care, brushing, flossing, and regular check-ups with your dentist in Philadelphia are the keys to a healthy smile. But it's also important to realize that certain foods can be very good for your teeth. These foods can clean teeth, fight plaque, strengthen tooth enamel and prevent tooth decay. By choosing foods that keep your teeth healthy, you'll find that good dental care is much easier to swallow.
They say an apple a day keeps the doctor away, but these crunchy fruits also keep tooth decay at bay. Crisp, fibrous apples are often called natural toothbrushes because they clean your teeth as you eat them. Since crunchy foods like apples require a lot of chewing, your mouth produces more saliva, which neutralizes bacteria and reduces plaque.
Celery also takes a bite out of plaque build-up. Eating this crunchy vegetable naturally cleans your teeth by scrubbing away plaque and stains. Simply chewing celery promotes saliva production, which restores the pH balance in the mouth and prevents plaque. Celery's high water content also helps wash away food particles to keep teeth clean and healthy.
Creamy, salty cheese always makes people smile, and it's nice to know that this popular food can also improve your smile. Eating cheese reduces the risk of cavities and tooth decay by balancing the pH level in the mouth. Cheese also naturally strengthens tooth enamel because its calcium and phosphorus re-mineralize teeth to restore their natural structure. In addition, eating cheese stimulates the production of saliva, which washes away sugars from food and protects teeth from high levels of acidity.
Sesame seeds may be small, but they offer big dental health benefits. The firm crunch of these seeds actually scrubs the surface of teeth to dissolve plaque and preserve tooth enamel. Sesame seeds are also high in calcium, which is essential for strong and healthy teeth.
With so much attention focused on foods that can harm your teeth, it's nice to know that some foods can actually help your smile. At our family dental care practice in Philadelphia, we encourage our patients to enjoy these foods for their teeth-cleaning, plaque-fighting benefits. Try adding these foods to your daily dental care routine to satisfy your need for healthy teeth.
To find an affordable dentist for your all of your family dental care needs, call Gentle Dental of Pennsylvania today at or make an appointment. 
---
Gentle Dental of Pennsylvania offers affordable family dentistry and gentle, compassionate dental care in Philadelphia. With 7 affiliated practices in the Philadelphia area, our offices are conveniently located with extended hours to meet your needs. At Gentle Dental of Pennsylvania, we provide most dental services, from basic preventative care and general dentistry to specialized procedures and complete dental reconstruction. We accept most dental insurance plans and offer affordable financial solutions for any budget. Patient satisfaction is our top priority and we strive to provide the exceptional, affordable dental care and personal touch that lead to lasting relationships. A smiling patient is our greatest reward and we look forward to keeping those smiles healthy, beautiful, and bright. Discover an affordable dentist who truly cares at Gentle Dental of Pennsylvania.