Don't Fall Victim to Gum Disease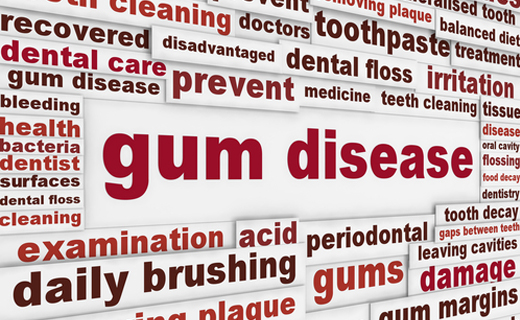 It would be difficult to go through life with bad breath and a toothless grin—at least it wouldn't do much for your social life. Yet millions of Americans are suffering from gingivitis and periodontal disease. These conditions are more commonly known as inflammation of the gums and gum disease, respectively, and they can destroy the health, look, and smell of your mouth. Gingivitis and periodontal disease are both highly preventable; all that is required is dedication to good daily dental care habits and routine visits to the family dentistry practitioner. Learn more about these dental health conditions and how you can avoid becoming a victim.
What Causes Gingivitis?
Periodontal disease begins with inflammation of the gums, also known as gingivitis. Gingivitis is the earliest stage of the disease. It presents with red, swollen, and bleeding gums. If left untreated, it can rapidly progress to full-blown gum disease, also called periodontal disease or periodontitis.
Periodontal Disease
Periodontal disease will lead not only to tooth loss, but is a significant indicator of total body health—patients suffering from periodontal disease have an increased risk of heart attack and stroke. You can prevent periodontal disease with proper daily dental care habits and routine visits to an affordable dentist. Brushing twice daily for a minimum of two minutes and flossing the entire mouth once daily can slash your risk of developing gum disease. Be certain to see your dentist twice per year for a deeper clean and advice on periodontal disease treatment.
Signs and Symptoms of Periodontitis
1. Red, swollen gums
2. Tender, puffy gums
3. Gums that bleed when brushing
4. Receding gums
5. Development of new spaces between your teeth
6. Pus between and around teeth and gums
7. Chronic bad breath
8. Chronic foul taste in the mouth
9. Teeth that are loose in the socket
When to Seek Periodontal Disease Treatment
If you are gums are anything but healthy, firm textured, and a pale shade of pink, there is reason for concern and you should see your dentist. Gingivitis is the earliest stage of gum disease and can be reversed if treated quickly and adequately. Brushing and flossing alone cannot treat or reverse gum disease—seek professional care. Allowing the disease to advance beyond basic inflammation can increase bacteria, infection, tooth decay, and eventually tooth loss. Once these conditions begin to set in, reversing the issue become more and more difficult. Seek help before the damage is irreversible. Your oral health is a team effort between you and your dentist.
To learn about our family dentistry practice in Philadelphia, call Gentle Dental of Pennsylvania today at or make an appointment.
---
Gentle Dental of Pennsylvania offers affordable family dentistry and gentle, compassionate dental care in Philadelphia. With 7 affiliated practices in the Philadelphia area, our offices are conveniently located with extended hours to meet your needs. At Gentle Dental of Pennsylvania, we provide most dental services, from basic preventative care and general dentistry to specialized procedures and complete dental reconstruction. We accept most dental insurance plans and offer affordable financial solutions for any budget. Patient satisfaction is our top priority and we strive to provide the exceptional, affordable dental care and personal touch that lead to lasting relationships. A smiling patient is our greatest reward and we look forward to keeping those smiles healthy, beautiful, and bright. Discover an affordable dentist who truly cares at Gentle Dental of Pennsylvania.