Don't Be So Sensitive! Try These Tips for Tender Teeth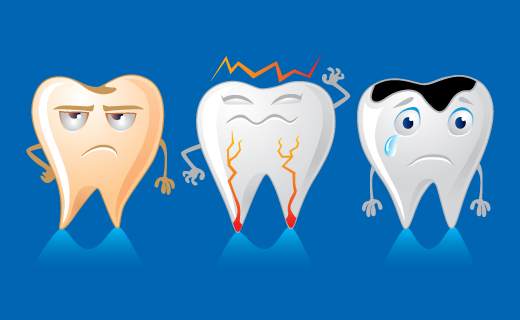 Sensitive teeth are impossible to ignore since they affect every part of your day. Each painful sip of your hot morning coffee. The sharp pang from eating your meals. The tingling sensation from cold food or air. And the stinging soreness from just brushing your teeth. Sensitive teeth can take a toll on your life, but you don't have to live with pain any longer. Advances in dental care have made it possible to relieve the ache of tender teeth, but you must first find a dentist in Philadelphia who will be sensitive to your sensitive teeth.
Only a dentist can perform a full examination to determine the cause of your dental discomfort.
The most common cause of sensitive teeth is exposed dentin, which is the layer beneath the tooth enamel that becomes exposed when the enamel gets worn away. Since dentin is directly connected to the nerve and no longer protected by the enamel, any impact or sensation can stimulate pain. To treat this problem and prevent future pain, a dentist can apply fluoride to the sensitive areas of teeth. This will strengthen the tooth's enamel and dentin to provide an extra barrier of protection over the nerves.
If the source of sensitivity is exposed roots or cavities, it may be necessary for a dentist to perform a root canal or place dental sealants over the teeth. Both of these options can greatly reduce and even eliminate tooth pain.
After you see the dentist, you can prevent future sensitivity by following a few healthy habits at home. Get a specialty toothpaste designed to reduce sensitivity and brush your teeth with a gentle yet thorough touch. Brushing too hard can actually remove tooth enamel and lead to additional soreness. Also, try to avoid foods and drinks that are very hot, cold, acidic, or sweet until your sensitivity subsides. Realize that sodas and other carbonated beverages can wear away at tooth enamel and cause further sensitivity, so try to cut back or completely cut out those drinks from your diet.
You don't have to suffer with tender teeth. There are many ways a dentist can treat sensitive teeth that offer great relief for little cost. Now, you can find an affordable dentist with a sensitive side in Philadelphia.
For an affordable dentist who will treat your sensitive teeth with sensitivity, call Gentle Dental of Pennsylvania today at or make an appointment.
---
Gentle Dental of Pennsylvania offers affordable family dentistry and gentle, compassionate dental care in Philadelphia. With 7 affiliated practices in the Philadelphia area, our offices are conveniently located with extended hours to meet your needs. At Gentle Dental of Pennsylvania, we provide most dental services, from basic preventative care and general dentistry to specialized procedures and complete dental reconstruction. We accept most dental insurance plans and offer affordable financial solutions for any budget. Patient satisfaction is our top priority and we strive to provide the exceptional, affordable dental care and personal touch that lead to lasting relationships. A smiling patient is our greatest reward and we look forward to keeping those smiles healthy, beautiful, and bright. Discover an affordable dentist who truly cares at Gentle Dental of Pennsylvania.