Posted under:
General
Posted on: May 11, 2013
Did prehistoric humans have better teeth than us?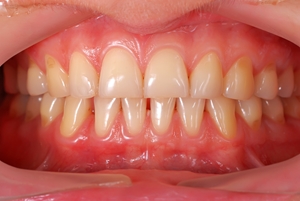 Today, humans have access to dental floss, toothpaste and toothbrushes, but back in prehistoric times, men and women had little to rely on when it comes to oral hygiene.
According to a recent study published in Nature Genetics, ancient hunter-gatherer clans had better teeth than we do today.  This finding has been linked to changes in human diets over time.
Prehistoric teeth
"Hunter-gatherers had really good teeth," says Alan Cooper, Ph.D., director of the Australian Centre for Ancient DNA. "[But] as soon as you get to farming populations, you see this massive change. Huge amounts of gum disease. And cavities start cropping up."
According to Cooper and his team, the gradual shift in human diets from meat, nuts and vegetables to carbohydrates and sugar effectively altered the makeup of bacteria in the mouths of modern men and women, National Public Radio reported.
Researchers examined the teeth found in 34 prehistoric skulls and determined that, specifically as ancient man took to tilling the fields and focusing on agriculture in favor of hunting, particular forms of harmful bacteria began to infiltrate human mouths.
Disease-causing pathogens specializing in devouring carbohydrates helped deteriorate human teeth.  The introduction of pre-processed sugar and flour in the late 19th century during the Industrial Revolution hastened the decline of teeth.
"What you've really created is an ecosystem which is very low in diversity and full of opportunistic pathogens that have jumped in to utilize the resources which are now free," added Cooper.
Techniques from ancient dentistry
While Cooper's study suggests that prehistoric man enjoyed greater oral health due to diet, another report published in PLoS One has revealed more information about possible early dentistry techniques.
Led by Federico Bernardini and Claudio Tuniz, of the Abdus Salam International Centre for Theoretical Physics in Italy, researchers in Italy and Australia made remarkable discoveries while examining the remains of a 6,500-year-old human jawbone, Medical News Today reported.
Specifically, a tooth found with the jaw near Trieste in Slovenia hints at possible methods used to fill cavities by dentists during earlier times. The tooth, which is a left canine, was found to have traces of beeswax in the crown.
"This finding is perhaps the most ancient evidence of prehistoric dentistry in Europe and the earliest known direct example of therapeutic-palliative dental filling so far," said Bernardini.
Bernardini and Tuniz used a variety of tools, including synchrotron radiation computed micro-tomography, accelerator mass spectrometry radiocarbon dating, infrared spectroscopy and scanning electron microscopy to prod more deeply into the tooth.
Due to the condition of the tooth, researchers believe the person who received the filling may have been near-death or perhaps already dead by the time the procedure was completed.
"If the filling was done when the person was still alive, the intervention was likely aimed to relieve tooth sensitivity derived from either exposed dentine and/or the pain resulting from chewing on a cracked tooth," wrote the study's authors.
When it comes to having a set of sparkling chompers, there's no need to live in the past!  While prehistoric man might have had an advantage due to a diet rich in hearty meats, legumes and nuts, there are plenty of ways that the men and women of today can improve their oral hygiene.
One of the first and most effective ways to counteract a poor diet, along with regular brushing and flossing, is to visit the dentist regularly.
To find an affordable dentist who will keep your smile at its best and provide exceptional dental care, call Gentle Dental of Pennsylvania today at or make an appointment.
---
Gentle Dental of Pennsylvania offers affordable family dentistry and gentle, compassionate dental care in Philadelphia. With 7 affiliated practices in the Philadelphia area, our offices are conveniently located with extended hours to meet your needs. At Gentle Dental of Pennsylvania, we provide most dental services, from basic preventative care and general dentistry to specialized procedures and complete dental reconstruction. We accept most dental insurance plans and offer affordable financial solutions for any budget. Patient satisfaction is our top priority and we strive to provide the exceptional, affordable dental care and personal touch that lead to lasting relationships. A smiling patient is our greatest reward and we look forward to keeping those smiles healthy, beautiful, and bright. Discover an affordable dentist who truly cares at Gentle Dental of Pennsylvania.