Dental Implants – The Perfect Solution for Lost or Missing Teeth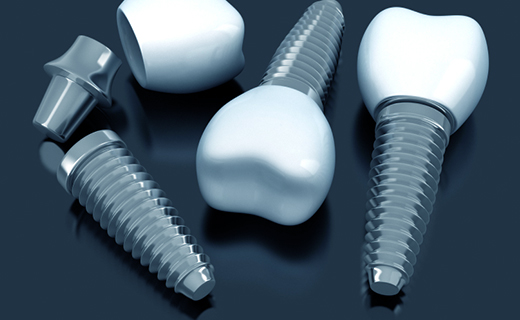 Lost or missing teeth can have a serious moment-to-moment impact on your life. Without all your teeth firmly in place, you may have difficulty eating, speaking, and smiling. You are also at an increased risk of bone loss and, if several teeth are missing, your appearance may be altered. These effects can cause damage both mentally and physically, meaning finding a viable solution is crucial to your health. Over the last 20 years, dental experts have perfected tooth replacement in the form of the dental implant. Dental implants are not only well-made replicas of your natural teeth, they also deliver natural function—it's as if you never lost any of your teeth.
Uncovering viable tooth replacements is an essential science. Nearly 70 percent of the adult population is suffering from the loss of at least one permanent tooth due to accidents, tooth decay or gum disease. Over the past two decades, dental experts have perfected the dental implant to be an ideal solution.
Dental implants can replace one or several teeth and involve inserting a titanium post into the jawbone, which is fitted with a crown to exactly replicate the appearance of a natural tooth. Over time, the titanium fuses with the jawbone and the implant essentially becomes part of the body. This effect ensures that the implant not only lasts a lifetime, but that it preserves all the functions of the teeth and protects the health of the bone and surrounding tissue.
Dental implants have a 95 percent success rate and are a suitable option for most healthy adults. Dental implants cost less than dentures and bridges, when you consider that they rarely have to be replaced. Most dentures and bridges have to be replaced two to three times in a lifetime.
Most patients report positive outcomes with dental implants. Due to the natural feel and function of implants, patients can return to their normal lifestyle; there are no limitations of food choices, activities or the need to "re-learn" speaking, laughing, or chewing. And, dental implants ensure that you look as good as you feel, supporting the facial structure, too.
Qualifications for Dental Implants
Healthy individuals whose teeth, gums and tissues have reached full physical maturity and have experienced tooth loss are all candidates for dental implants. Your dentist in Philadelphia will review your medical history carefully and discuss your lifestyle to ensure dental implants are the best choice for you. Some considerations include:
Existing medical conditions. Patients with poorly managed hypertension or diabetes may not be the ideal candidates for dental implants. Your dentist can help you assess your condition to determine success of the procedure.
Dental issues. Patients susceptible to cavities or who suffer from gum disease are still candidates for dental implants. Your dentist can work with you to address these issues and ensure the implant will be a success.
Use of dentures or partials. Implants may replace or stabilize other tooth-replacement devices.
Smokers. Smoking negatively impacts your overall dental health. While smokers are still eligible for dental implants, it is advised that they quit smoking to optimally benefit their overall health.
To learn about our family dentistry practice in Philadelphia, call Gentle Dental of Pennsylvania today at or make an appointment.
---
Gentle Dental of Pennsylvania offers affordable family dentistry and gentle, compassionate dental care in Philadelphia. With 7 affiliated practices in the Philadelphia area, our offices are conveniently located with extended hours to meet your needs. At Gentle Dental of Pennsylvania, we provide most dental services, from basic preventative care and general dentistry to specialized procedures and complete dental reconstruction. We accept most dental insurance plans and offer affordable financial solutions for any budget. Patient satisfaction is our top priority and we strive to provide the exceptional, affordable dental care and personal touch that lead to lasting relationships. A smiling patient is our greatest reward and we look forward to keeping those smiles healthy, beautiful, and bright. Discover an affordable dentist who truly cares at Gentle Dental of Pennsylvania.