Posted under:
General
Posted on: January 18, 2015
Cracked and Chipped Teeth – Symptoms and Solutions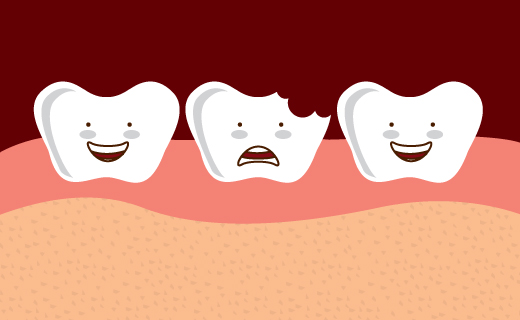 Your tooth enamel is the hardest substance in your body. However, as the years pass, clenching, grinding, and chewing hard foods or objects takes its toll. Cracked, fractured, and chipped teeth are extremely common. Unlike broken bones, cracks in teeth will not heal. Some fractures may even progress despite appropriate treatment, and tooth loss is a possible result. Even a dental crown cannot guarantee success. An endodontist specializes in diagnosing and saving teeth when cracks and other serious injuries occur. If you have a fractured or chipped tooth, schedule an endodontic evaluation as soon as possible.
Symptoms of a Cracked or Chipped Tooth
A cracked or chipped tooth hurts when chewing, causing movement and irritation of the tooth's pulp, which contains its nerves and blood vessels. Eventually, infection of the tooth and surrounding gums may occur. The following are common symptoms of cracked or fractured teeth.
Tooth pain that comes and goes unpredictably
Tooth pain when chewing or relieving biting pressure
Tooth pain when exposed to extreme hot or cold
Types of Cracks and Other Enamel Injuries
Chipped teeth and craze lines are the most common enamel injuries. Many chipped teeth are repaired by simply reattaching broken pieces or replacing them with fillings. Craze lines are tiny cracks that only involve the outer layer of enamel; these cause no symptoms and do not require treatment. A fractured cusp occurs when part of a tooth's chewing surface separates or breaks. These injuries rarely damage the pulp and can be treated by placement of a crown. If a crack extends vertically from the chewing surface towards the root, it can often be saved by a root canal procedure. Unfortunately, if it reaches below the gum line, the tooth must be extracted; this is why early intervention is important.
Preventing Cracked or Chipped Teeth
Cracks aren't 100 percent preventable, but you can take steps to minimize your risk. Avoid chewing hard foods like ice and popcorn kernels. Never bite or chew non-food objects such as pens or bottle caps. Wear a mouth guard during sports activities, and seek treatment for nighttime tooth grinding. Finally, be sure to establish a relationship with an affordable dentist, so you have access to appropriate care if an emergency occurs.
To get the dental care you deserve from an affordable dentist in Philadelphia, call Gentle Dental of Pennsylvania today at or make an appointment.
---
Gentle Dental of Pennsylvania offers affordable family dentistry and gentle, compassionate dental care in Philadelphia. With 7 affiliated practices in the Philadelphia area, our offices are conveniently located with extended hours to meet your needs. At Gentle Dental of Pennsylvania, we provide most dental services, from basic preventative care and general dentistry to specialized procedures and complete dental reconstruction. We accept most dental insurance plans and offer affordable financial solutions for any budget. Patient satisfaction is our top priority and we strive to provide the exceptional, affordable dental care and personal touch that lead to lasting relationships. A smiling patient is our greatest reward and we look forward to keeping those smiles healthy, beautiful, and bright. Discover an affordable dentist who truly cares at Gentle Dental of Pennsylvania.