Posted under:
General
Posted on: March 23, 2021
Causes of Bleeding Gums and Gum Disease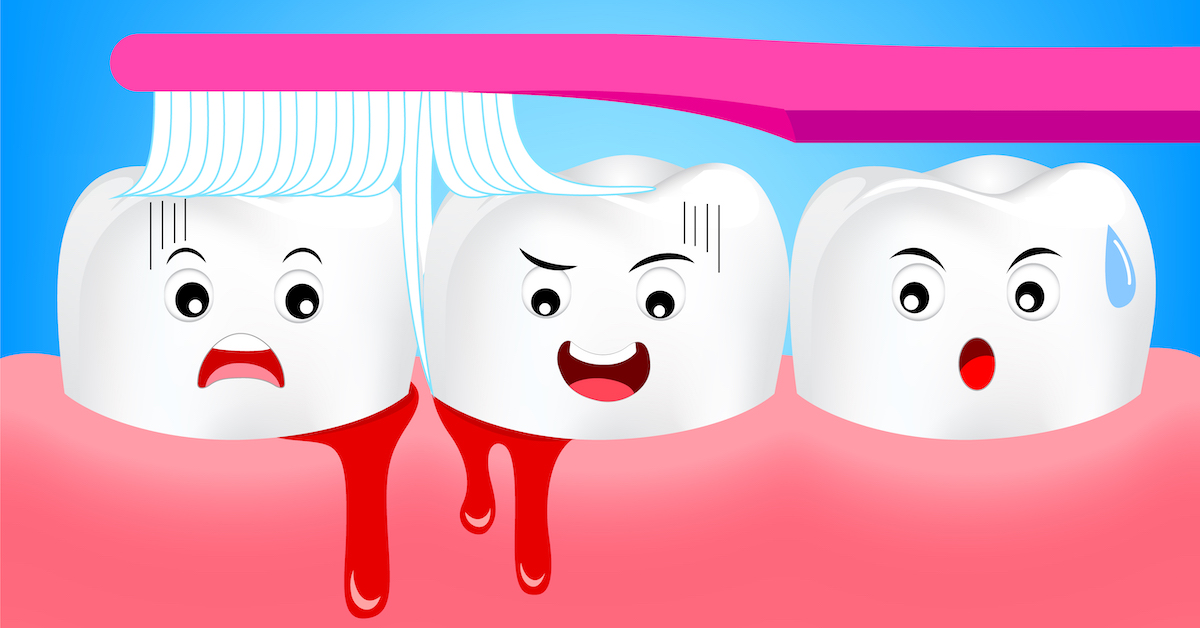 What You Need to Know About Gum Disease
Periodontal disease, also known as periodontitis or simply gum disease, is a condition that affects about 75 percent of American adults. Many of these individuals may not even be aware that they suffer from this condition. A few spots of blood on the toothbrush or dental floss can often be the first signs of a serious dental condition that could affect the future of your teeth and your smile. The best way to prevent the continued progression of the disease is to learn everything you can about it.
How Gum Disease Directly Impacts Your Health
Gum disease is caused by bacteria that live in your mouth and that consume the food and drink left behind after a meal or a snack. The breakdown of these substances by the bacteria can produce a material called plaque that forms a sticky film on teeth and gums. Plaque is responsible for many cavities because of its ability to break down tooth enamel. It can also cause inflammation of the gums, which is the first step in the development of gum disease.
The very first stage of gum disease is called gingivitis. During this phase of the condition, it is often possible to reverse the effects of gum disease on your teeth and gums. However, in the later stages, gum disease can cause irreversible damage to the bone structures of the jaw and teeth and to the tissues and ligaments of the gums.
A larger percentage of adults and over 60 percent of teenagers have some form of gum disease. Even more complicated is that only 15 percent of them know they have the disease, making it hard to ask for the necessary treatment. The good news is that with a regular and proper dental hygiene routine, most cases of the disease can be held at bay or prevented entirely.
Underlying and Primary Causes of Gum Disease
It is estimated that about 30 percent of cases of gum disease are related to genetic predispositions to the condition. In many cases of periodontal disease, neglect of dental hygiene plays an important role in its development. Other contributing factors may include some or all of the following:
Any condition that affects the immune system can make it easier for bacteria to build up and attack the gums. These conditions may include cancer treatments, medical conditions or other issues that depress the function of the immune system, allowing bacteria to move in and create infections.
Medications that cause dry mouth are also implicated in the development of gum disease. Dry mouth causes a lack of saliva which makes it harder for your mouth to cleanse itself of bacteria and plaque in a natural way.
Smoking and chewing tobacco cause damage to gum tissues and introduce toxins into the mouth. These toxins impact the body's ability to fight off infections, encouraging the growth of gum disease.
Hormone fluctuations associated with medical conditions, puberty, menopause and pregnancy are also commonly associated with a higher risk of periodontal disease. This is because the gums become more sensitive.
Regular dental appointments and teeth cleaning services can help to prevent most cases of gum disease.
Checking for the Symptoms of Gum Disease
Some of the most common ways you can identify potential gum disease is through an examination of your teeth and gums and by looking for these signs of the dental condition:
Bleeding or sore gums
Swelling, redness or inflammation of the gums
Loosening of some teeth
Strange tastes in your mouth, especially upon awakening
Persistent bad breath issues
A noticeable difference in your bite and the way your teeth fit together
Gaps in your teeth that were not present before
A receding gumline
Left untreated, gum disease can cause you to lose teeth as the supporting structures of your jaw become damaged and ineffective. This can have an impact on your appearance and your self-confidence as well as the health and functionality of your teeth when biting and chewing.
Periodontal Disease in the Final Stages: What You Need to Know
Periodontitis follows gingivitis and it is very painful and progresses somewhat quickly. Normally, what happens is that bacteria has started to attack the gums, loosening them from the teeth. Since they are loose, there are now pockets between the teeth and the gums, leaving the space open to bacteria and debris.
Bacteria, debris and plaque create a home underneath the gums and cause the ligaments and teeth to deteriorate. As it progresses, the teeth come loose from the gums and the jawbone and they may fall out or need to be removed. When you get to this point, there is no reversing the damage.
Periodontitis presents in different ways and depending on your risk factors you may be likely to develop one over the other.
Chronic periodontitis is by far the most common form of this ailment, and it leads to the slow loss of the attachments and the continued inflammation of the gum tissue.
Aggressive periodontitis generally affects patients in the same way that chronic forms of the condition do. However, it progresses much more rapidly and causes severe damage to tissues and structures if not treated as quickly as possible.
Necrotizing periodontitis is most common in patients with severe immune system disorders. It causes the death of tissues and bone and can sometimes develop into a life-threatening condition if not treated appropriately.
Steps for Preventing Gum Disease
There are a few habits that you can develop that will help to prevent gingivitis and gum disease from impacting the health of your teeth.
Proper brushing and flossing, at least twice a day, will remove much of the plaque that is responsible for causing gum disease.
Rinsing your mouth with a dentist-recommended type of mouthwash or with plain water will also offer added protection against periodontitis.
Finally, making and keeping regular dental appointments will allow you to access the customized care you need to promote the healthiest teeth and gums.