Posted under:
General
Posted on: June 7, 2015
Be a Late Bloomer with Braces for Adults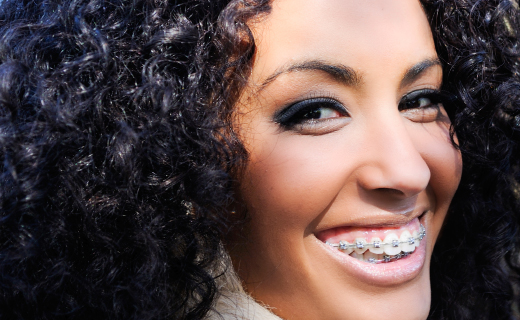 The best orthodontists know that a healthy smile is as important later in life as it is in childhood. In fact, correcting orthodontic problems such as misaligned teeth, crowding, overbites, and underbites isn't just about appearance. Orthodontic treatments can help prevent tooth decay, periodontal disease, chewing difficulty, and headaches or ear pain due to jaw problems. About one million American adults wear braces. If you want to improve your smile, you may be able to receive treatment from your general dentist or ask for a referral to see a qualified orthodontist.
Orthodontic Treatments for Adults: What Are the Options?
Braces work by providing consistent pressure that gradually moves teeth into their new position. Options for adults include traditional stainless steel braces that attach to the front surface of teeth, ceramic braces that feature a more natural appearance, concealed lingual braces that are worn on the back of teeth, and invisible aligner trays to correct minor problems. Adult orthodontic treatments may take longer than treatments for children and teens. An adult patient may wear braces for up to three years, and retainers may be necessary to maintain results.
Tips for Adjusting to Braces for Adults
Even the best orthodontists can't eliminate the inevitable adjustment period that all orthodontic patients must face. Just like braces for kids, braces for adults can cause difficulty speaking and chewing, minor discomfort, and frustration with oral hygiene tasks, but these problems diminish as you get used to your new braces. Here are a few tips to help you cope.
Maintain a strict brushing and flossing routine. Be sure to follow all of your orthodontist's recommendations concerning product selection and cleaning techniques.
Limit your consumption of sweet and starchy foods that contribute to tooth decay.
Avoid foods that can damage your braces. These include hard candies, pretzels, ice, corn on the cob, popcorn, caramel, and chewing gum.
Inform your orthodontist if you experience significant discomfort; adjustments may be needed.
See both your orthodontist and your general dentist regularly for check-ups and professional cleanings.
To get the dental care you deserve from an affordable dentist in Philadelphia, call Gentle Dental of Pennsylvania today at or make an appointment.
---
Gentle Dental of Pennsylvania offers affordable family dentistry and gentle, compassionate dental care in Philadelphia. With 7 affiliated practices in the Philadelphia area, our offices are conveniently located with extended hours to meet your needs. At Gentle Dental of Pennsylvania, we provide most dental services, from basic preventative care and general dentistry to specialized procedures and complete dental reconstruction. We accept most dental insurance plans and offer affordable financial solutions for any budget. Patient satisfaction is our top priority and we strive to provide the exceptional, affordable dental care and personal touch that lead to lasting relationships. A smiling patient is our greatest reward and we look forward to keeping those smiles healthy, beautiful, and bright. Discover an affordable dentist who truly cares at Gentle Dental of Pennsylvania.