Are Your Teeth at the Mercy of Genetics?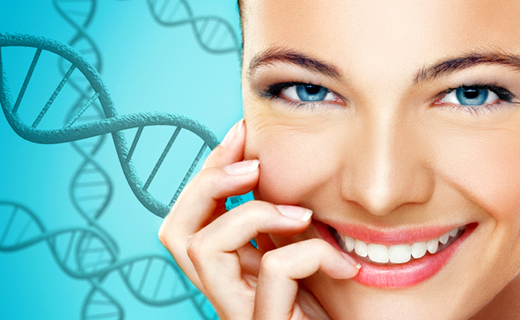 Our genes shape our physical beings in both large and small ways. Geneticists are studying how their influence may even determine our oral health, but the answers are unclear. With more information, affordable dentists could provide preventative dental care for those at higher risk of tooth and gum disease. Dentists can often tell if a problem is due to neglectful hygiene habits or other underlying factors. Genetic factors are beyond a patient's control, but we can't blame everything on our parents.
Dental Problems Associated with Genetic Factors – Common structural dental problems related to genetic factors include malformed or missing teeth, tooth misalignment, and unusual shape and configuration of tooth roots. Genes also influence the development or absence of third molars, and they're to blame in many cases of oligodontia, a condition where more than six teeth are missing at birth. Tooth crowding and misalignment are usually related to jaw formation. Genetic mutations often work hand in hand with environmental factors such as exposure to radiation or viruses.
What You Can't Blame on Your Parents – Some problems are more strongly influenced by environmental and behavioral factors. Discoloration or staining of teeth is related to smoking, prescription and recreational drug use, fluoride exposure, hygiene habits and even some dental procedures like root canals and fillings. Tooth decay, although it may be worsened by hereditary weakness, is most often due to a lack of proper dental care. Fortunately, affordable dentists can offer ways to correct these problems, whether they are due to genetics or not.
Know Which Factors You Can Control –
To keep a healthy smile, control the things you can. Brush twice daily with an ADA-approved toothpaste. Floss every day. Eat a well-balanced diet, and avoid consuming an excess of carbonated drinks and sugary junk foods. When you do eat sweets, brush and gargle to remove bacteria before it can harm your teeth. If you smoke, discuss cessation options with your doctor. Even though heredity may play a part in your oral health, you can beat the odds by practicing healthy habits and seeing your dentist regularly.
To learn about our family dentistry practice in Philadelphia, call Gentle Dental of Pennsylvania today at or make an appointment.
---
Gentle Dental of Pennsylvania offers affordable family dentistry and gentle, compassionate dental care in Philadelphia. With 7 affiliated practices in the Philadelphia area, our offices are conveniently located with extended hours to meet your needs. At Gentle Dental of Pennsylvania, we provide most dental services, from basic preventative care and general dentistry to specialized procedures and complete dental reconstruction. We accept most dental insurance plans and offer affordable financial solutions for any budget. Patient satisfaction is our top priority and we strive to provide the exceptional, affordable dental care and personal touch that lead to lasting relationships. A smiling patient is our greatest reward and we look forward to keeping those smiles healthy, beautiful, and bright. Discover an affordable dentist who truly cares at Gentle Dental of Pennsylvania.