All About Dental Implants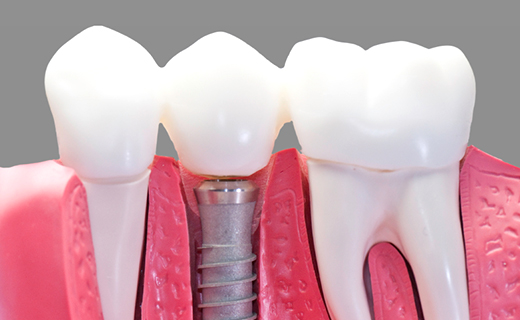 Replacements for teeth stretch as far back as ancient man, when gold rings were fitted to an individual's mouth and the spaces created by missing teeth were filled by another human tooth or that of an animal. Your teeth serve a greater function than chewing your food—your pearly whites impact your speech, your facial structure, and, of course, your smile. That's a lot to sacrifice if you lost teeth to aging, accident, or disease. Thankfully, advances in dentistry have improved since ancient civilization and you can now replace broken and missing teeth with dental implants that look, feel, and function just like your natural teeth.
Dental implants are the most advanced and often preferred alternative to dentures. A dental implant is a small dental appliance that is inserted into the upper or lower jaw designed to ideally replace individual missing teeth or support a bridge or denture.
Learn all about dental implants cost and types to determine if they are the best choice for your dental needs.
The Two Types of Dental Implants
Endosteal implants are the most common type of implant. This implant mimics the form and function of the natural tooth, as it is inserted directly into the jawbone, acting as the tooth's root and then fitted with a crown. With optimal healing and adherence to good dental care, the implant will be incorporated into the bone to offer full support and function.
Subperiosteal implants are placed onto the bone rather than into the bone. This type of implant is used most often used to cover a large surface area, such as when there is not enough bone to support endosteal implants. Most of the implant structure is under the gum tissue; however, the posts remain exposed above the gums and the dentures or partials are then attached to these posts.
The Advantages of Dental Implants
Dental implants offer a substantial number of advantages over dentures or bridges. Individuals with a significant number of missing teeth may benefit from dental implants because they mimic the natural tooth more effectively and/or can enhance the fit of dentures, bridges, or crowns. The American Academy of Implant Prosthodontics recommends implants for the following reasons:
Support and improve stability of dentures, bridges and/or crowns
Ease proper chewing
Approximate the "feel" of natural teeth better than dentures
Improve outcomes of speech and appearance impairments often associated with new dentures
Factors for Consideration of Dental Implants
You and your dentist will work together to determine the dental implants cost if you are an optimal candidate for implants:
Diagnosis of condition (missing teeth or a tooth/teeth that need to be extracted and replaced)
Health: Are you in good health?
Oral Health: Do you have healthy gums and a jawbone strong enough to support the implant?
Preexisting Diseases and Conditions: Are you suffering from any disease or conditions that may limit your ability to heal properly?
Lifestyle: Can you avoid lifestyle choices, such as heavy smoking and drinking, to improve successful outcomes with the implant?
Commitment to Future Health: Are you committed to meticulous oral hygiene and regular dental visits following implant placement?
To get the dental care you deserve from an affordable dentist in Philadelphia, call Gentle Dental of Pennsylvania today at or make an appointment.
---
Gentle Dental of Pennsylvania offers affordable family dentistry and gentle, compassionate dental care in Philadelphia. With 7 affiliated practices in the Philadelphia area, our offices are conveniently located with extended hours to meet your needs. At Gentle Dental of Pennsylvania, we provide most dental services, from basic preventative care and general dentistry to specialized procedures and complete dental reconstruction. We accept most dental insurance plans and offer affordable financial solutions for any budget. Patient satisfaction is our top priority and we strive to provide the exceptional, affordable dental care and personal touch that lead to lasting relationships. A smiling patient is our greatest reward and we look forward to keeping those smiles healthy, beautiful, and bright. Discover an affordable dentist who truly cares at Gentle Dental of Pennsylvania.