5 Foolproof Ways to Avoid Tooth Decay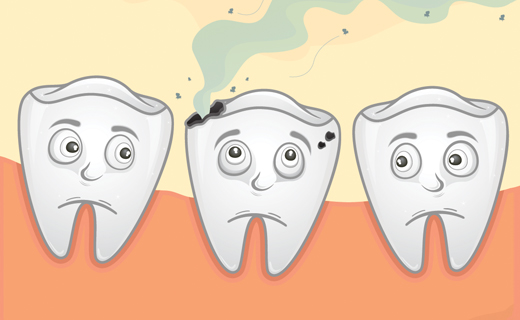 The deterioration of tooth enamel is known as tooth decay. Enamel is the strong outer layer of your teeth, and when it is compromised, cavities develop. The root cause of most cavities is a buildup of plaque, a sticky, bacteria-laden film that forms on the surface of teeth. When you eat or drink foods and beverages containing sugars or starches, the bacteria contained in plaque forms acids that attack your enamel. If you don't practice good dental care, more acid stays in contact with your teeth, and you eventually develop deep cavities.
Cavities Aren't Just a Kids' Problem
Cavities are most common in children, but aging adults often experience tooth decay associated with age-related oral changes. Receding gums often accompany advancing age, and preexisting periodontal disease is also common. The two factors combined give plaque access to tooth roots, which are covered with cementum, a softer and more vulnerable material than enamel. Tooth roots are more susceptible to decay and more sensitive to hot and cold. Tooth-root decay and sensitivity problems are both common in adults more than 50 years old. Decay along the margins of fillings is also frequently seen. Seniors may have more fillings due to the absence of modern dental care techniques when they were young. As the fillings age, they fracture and leak; this causes bacteria to accumulate in the small crevices of the tooth surface. Acid exposure in these areas results in decay.
5 Indispensable Cavity Prevention Tips
Brush at least twice every day with a fluoride toothpaste.
Clean between teeth using dental floss or interdental cleaners daily.
Eat a healthy diet, and avoid sugary snacks between meals.
Ask your dentist about treatments that can help deter tooth decay such as fluoride rinses or dental sealants.
Affordable dentists can identify and treat cavities before they cause tooth loss. Visit your dentist regularly.
To learn about our family dentistry practices in Philadelphia, call Gentle Dental of Pennsylvania today at or make an appointment.
---
Gentle Dental of Pennsylvania offers affordable family dentistry and gentle, compassionate dental care in Philadelphia. With 7 affiliated practices in the Philadelphia area, our offices are conveniently located with extended hours to meet your needs. At Gentle Dental of Pennsylvania, we provide most dental services, from basic preventative care and general dentistry to specialized procedures and complete dental reconstruction. We accept most dental insurance plans and offer affordable financial solutions for any budget. Patient satisfaction is our top priority and we strive to provide the exceptional, affordable dental care and personal touch that lead to lasting relationships. A smiling patient is our greatest reward and we look forward to keeping those smiles healthy, beautiful, and bright. Discover an affordable dentist who truly cares at Gentle Dental of Pennsylvania.